Success at the Echo School Awards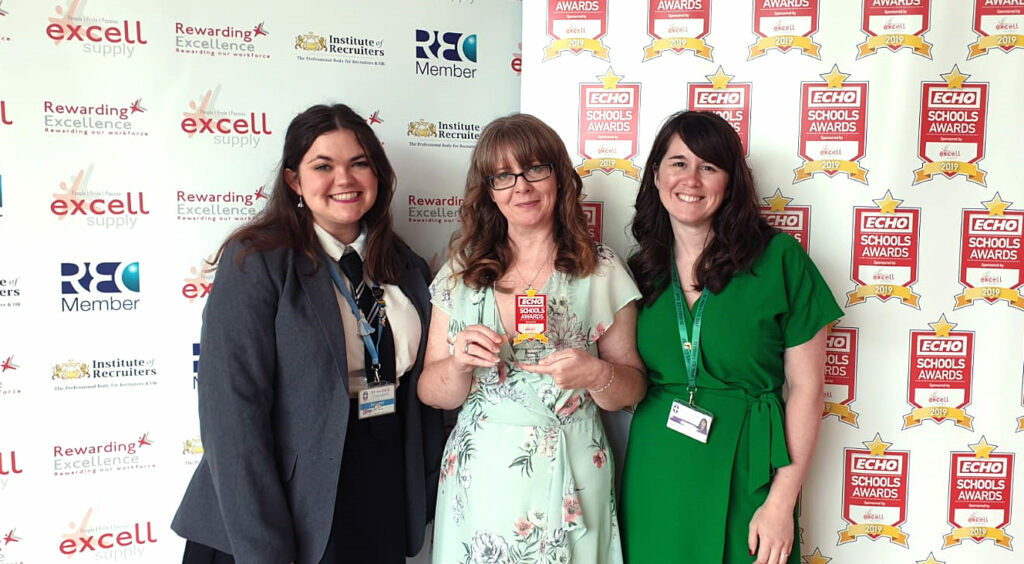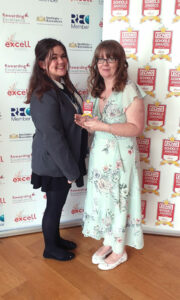 On Tuesday 25th June we attended the Echo School Awards, hosted by Leanne from Radio City's breakfast show. We were finalists in two categories; Team Achievement with our wonderful mini maths leaders and Support Staff of the Year with Mrs Hale, our Librarian.
It was a wonderful afternoon celebrating everything good about our schools and young people across the region.
We are pleased to announce that Mrs Hale won her category and was named Support Staff of the Year 2019 for her work in promoting reading and mental wellbeing in the library.
Congratulations Mrs Hale and thank you for your hard work.
Pupil Library Assistant of the Year Finals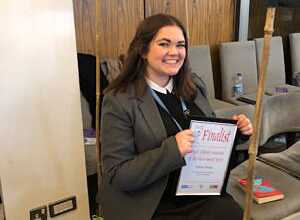 We had a wonderful day in London at the Pupil Library Assistant of the Year finals where we were inspired by all of the wonderful finalists, hearing about the difference they make to their school libraries and the difference their school libraries have made to them.
We were so proud of our wonderful Emma Weeks, who beat off competition from all over the UK to get to the finals. She was a credit to school and was praised by so many of the authors, editors and librarians there for the work she does to promote mental wellbeing through reading.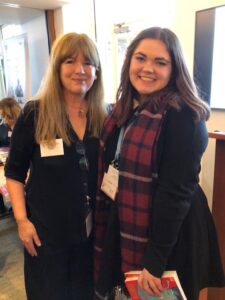 Emma was championed by author Karen McCombie, who spoke passionately about the pressures of secondary school life and how libraries can provide a sense of calm and a place of safety to anyone who needs it. She brought us to tears when she spoke about Emma and her relationship with our library.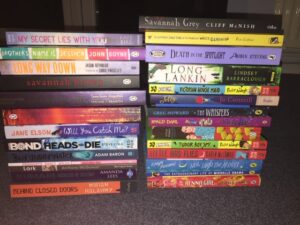 Emma met so many talented authors during the event and was lucky enough to come home with bags full of signed books as a reminder of the day.
More pictures of the day….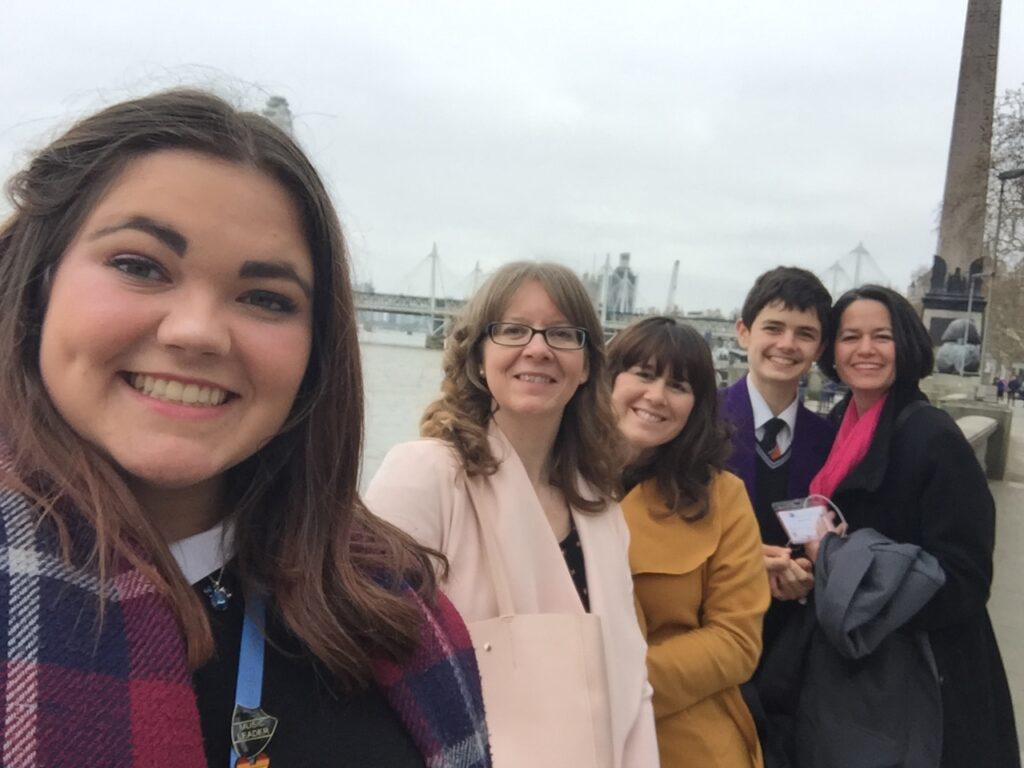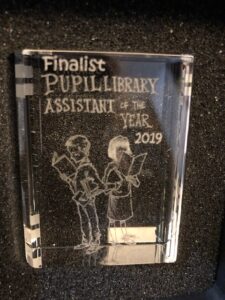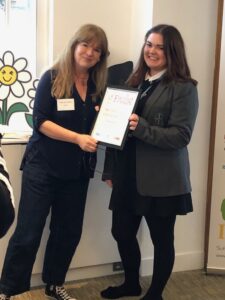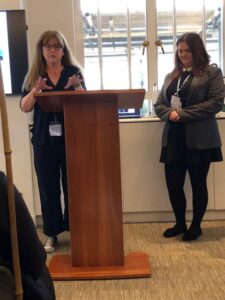 Reading Quality Mark – Gold Award!
In July we were awarded Gold status in the Reading Quality Mark. This recognises our efforts to promote reading for pleasure across the school. We were very proud to be given the highest level possible and hope to continue to build on this in the future.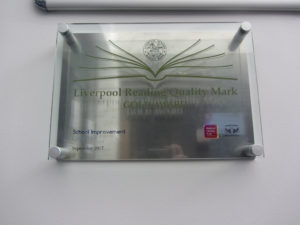 Pupil library assistant of the year

Well done to Victoria Langford, winner of the Pupil Library Assistant of the Year award 2017. As a school we are so very proud of Vicky and her wonderful achievement. She worked so hard to get to the finals and fought off competition from four extremely competent Pupil Library assistants, from as far afield as Northern Ireland. The judges were very emotional when they announced the winner, stating that they were very impressed by the synergy between Vicky, the school library and the wider school population. The sponsors were so impressed with Vicky's proposals to get more pupils into the library that they gave school a cheque for £500 to make it happen! Please click here to view what the Liverpool Echo had to say.

Vicky was championed by well known author Steve Cole who was witty and passionate and put Vicky completely at ease.
As well as certificates and a beautiful engraved glass book, Vicky came home with 20 signed books. It was wonderful to meet the authors and publishers and share experiences with the other Librarians and Library Assistants who were there.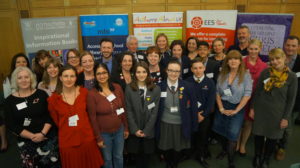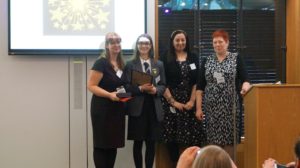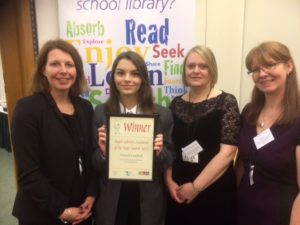 Some more information about the awards:
Bestselling author Cathy Cassidy joined school librarians, representatives from literacy organisations and publishers to celebrate the Pupil Library Assistant of the Year Award; a joint venture between the School Library Association and the CILIP School Libraries Group.
A five-strong shortlist was selected from a very strong field of nominations from school librarians across the UK. The winner was announced by Cassidy at a special ceremony on Friday 17th March which was held, this year, at Portcullis House, Westminster.
Recognising the valued assistance of pupils who help within their school libraries, the initiative was sponsored by The Worshipful Company of Arbitrators; Authors Aloud UK, a company specialising in organising author visits; EES for Schools, an organisation that provides a range of specialist education services; leading children's publishers Hachette and Macmillan; and MLS, a company that produces high specification library systems for schools.
The award's logo was specially designed by Children's Laureate, Chris Riddell.
Barbara Band, Chair of the Judging Panel and founder of the award said "Week after week many students support the libraries in their schools by giving of their time and effort. Sadly, this is too often unrecognised and unrewarded. Yet these students are not only helping to create a lively and effective library that responds to the needs of its users, they are also gaining valuable skills and experience in the process. This award was created to recognise that work and also to highlight the unique synergy that occurs when a pupil becomes a library assistant."
Tricia Adams, Director of the School Library Association said "Pupil library assistants are a valuable element in the running of school libraries – giving service to the school but also gaining skills and confidence from the work they do in the library, which ultimately feeds back into their academic achievement and their motivation."
Caroline Roche, Chair of the CILIP School Libraries Group said "The work that pupil librarians do is invaluable in their schools.  Many school librarians are lone workers and therefore rely heavily on assistance from pupil librarians during busy periods.  But, more than that, many of these pupils enrich their libraries: recommending books, talking to their peers, creating newsletters, contributing to blogs, helping create displays – all the extras which can make a library vibrant and interesting. All of this enriches not only the library, but adds to their personal development.  SLG thoroughly endorses this Award."
Open to pupils who assist in school libraries across the UK, the award recognises the impact of their work on their school and its library and equally the value of the experience to the children's lives. Entries are judged by a panel of leading figures from the children's book world and school library community.
The five shortlisted pupils:
Rebecca Dunville – Wellington College, Belfast
William Harris – Lord Wandsworth College, Hampshire
Victoria Langford – St Hilda's CE High School, Liverpool
Rishi Shah – Queen Elizabeth's School, London
Harry Sindle – Ely College, Cambridgeshire
The judging panel
• Sufiya Ahmed, Guest Judge, YA Author
• Barbara Band, CILIP Past President & School Library, Reading and Literacy Consultant
• Elizabeth Bentley, CILIP SLG Committee Member & School Librarian
• Dawn Finch, CILIP Past President & Children's/YA Author
• Annie Everall, Director, Authors Aloud UK & CILIP SLG Committee Member
• Sally Harrison, Principal Library Advisor, EES for Schools
• Susan Staniforth, SLA Board Member & School Library Consultant
Sponsors
The Worshipful Company of Arbitrators, Authors Aloud UK, EES for Schools, Hachette Children's Group, Macmillan Children's Books, and MLS.
About the School Library Association
The School Library Association is an independent charity that believes that every pupil is entitled to effective school library provision. The SLA is committed to supporting everyone involved with school libraries, promoting high quality reading and learning opportunities for all. Website: www.sla.org.uk
About the CILIP School Libraries Group
The School Libraries Group (SLG) of CILIP affirms that school libraries and school library services are fundamental to the development of a literate population able to participate fully in a thriving democracy, culture, civilization and economy. www.cilip.org/slg
Cathy Cassidy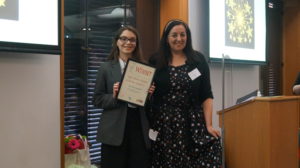 Cathy Cassidy is one of the UK's top-selling children's authors. She went to art school before working as fiction editor for the legendary Jackie magazine.  After teaching art at secondary level, she became an agony aunt for Shout magazine but now writes full-time and tours extensively around the UK, visiting schools, libraries and bookshops, meeting her vast number of fans. Cathy has twice won the prestigious 'Queen of Teen' award and is an avid supporter of school and public libraries and librarians.
Vicky has been a Pupil Librarian since 2014 and works tirelessly to promote reading for pleasure across the school. She has given her free time to help ensure that the library runs smoothly and has gained valuable skills and lots of confidence. We couldn't run the library without her.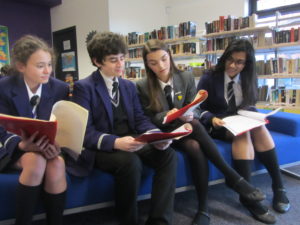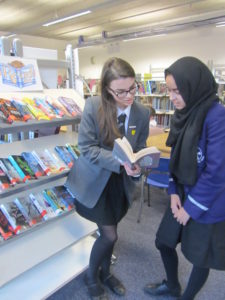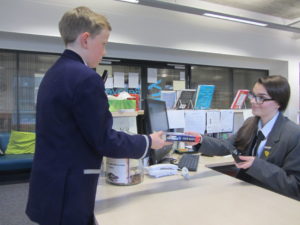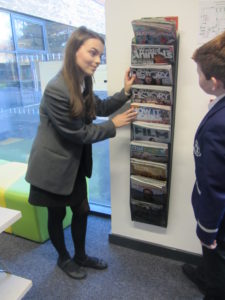 Liverpool Echo School of the Year Awards

Congratulations to our team of wonderful Pupil Librarians who were finalists in the Team Achievement category of the Liverpool Echo School of the Year Awards. They beat off a huge amount of competition, from right across Merseyside, to be placed in the top 3.
The awards ceremony was held at Liverpool Hope University's Creative Campus, where we were treated to a wonderful lunch and an afternoon celebrating everything that is good about education in Liverpool.
Silver Reading Quality Mark
In 2014 we were awarded the Silver Reading Quality Mark. This is an award which was developed to recognise the effort schools have put into promoting reading for pleasure to its pupils. Schools can be awarded either bronze, silver or gold.
We hope to go for gold soon.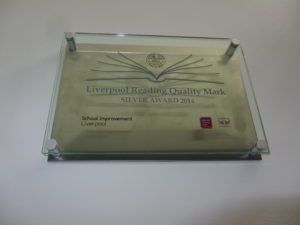 Educate Awards
In 2012 the school won an award from educate magazine for innovative and creative literacy.