Competitions
Pupils are encouraged to be creative and use their imaginations at every available opportunity. One way of allowing pupils to do this is through internal and external writing competitions. It also encourages pupils to use the library more and have fun.
Over the past couple of years pupils have entered competitions organised by Young Writers which saw them writing a Shakespeare style sonnet, a short story inspired by Grimm's fairy tales, a lipogram poem and poems dedicated to mums to celebrate mother's day. Well over 100 pupils have had their work published so far with more results expected soon.
All of the anthologies containing pupils' work are available to borrow from the library.
One of our pupils was named as the Rotary Club's Young Writer of the Year this year with another chosen as a runner up.
Competition details can be found here:
In My Life diary writing competition
Congratulations to Samantha Roberts (year 7), Niamh O'Keefe (year 8) and Sarah Kneale (year 11) who attended the In My Life writing awards at the museum of Liverpool last week. Sarah was named as overall runner-up for the whole city, while Niamh and Samantha were highly commended for their diaries. Well done girls!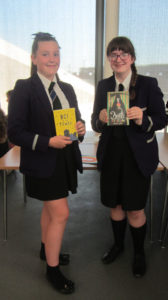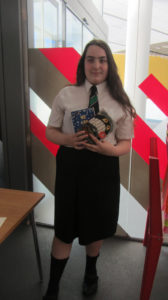 Rotary Club's Young Writer of the Year 2018
Congratulations to Isaac Butland on being named Young Writer of the year by the Rotary Club. Niamh Ravenhill was also named as runner up. We are so proud of both of them and expect great things from them in the future!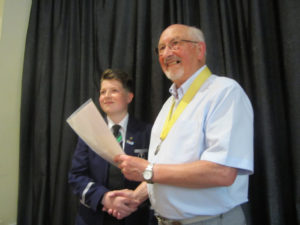 Welcome to Wonderland Creative Writing Competition
Pupils aged between 11 and 18 have been invited to enter this competition. It is a mini saga so pupils must write their story in 100 words or less. The deadline to hand completed stories into the library is 6th April. Pupils with good stories will have their work published in an anthology and there is a chance of winning a Kindle Fire HD for yourself and £1000 for your school. For more information, and an entry form, please see Mrs Hale in the library.
Our extreme reads winners: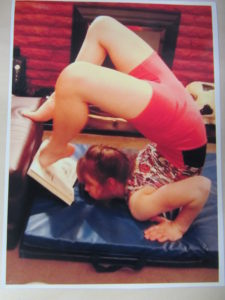 Kerry Rothwell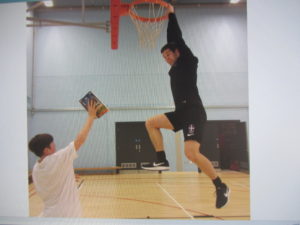 Mr Lloyd
Here are some of the other entries we received: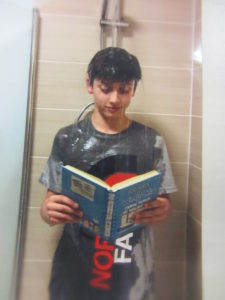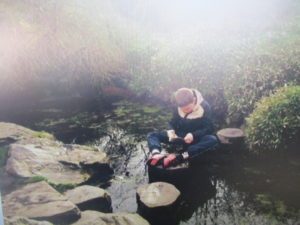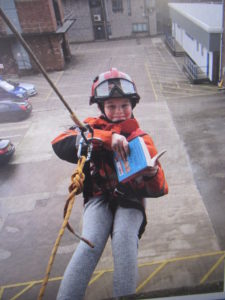 Thank you to everyone who entered!

Our costume competition winners (and Mr O'Callaghan!):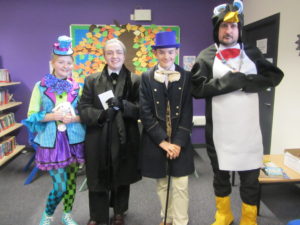 "Busta Rhyme" poetry competition
Earlier this year we sent several entries to the Young Writer's "Busta Rhyme" poetry competition. They received over 12,000 entries but I'm pleased to say that 9 of the entries we sent have been chosen for publication in a book entitled "Busta Rhyme – Northern Voices" which will be published in March next year. After publication an overall winner will be chosen to receive £1000 and a school crowned with an award of excellence.
The pupils involved all did really well, even those not chosen for publication. Below is a list of pupils who will be included in the anthology. They will receive a letter, certificate and bookmark in registers tomorrow.
Tabitha Hall 7U
Freya Ambrose 7Y
Lara Ambrose 7Y
Hamza Bin Saud 7X
Ifetijesu Olaoye 7Y
Elle Frith 7X
Safia Shakil 10X
Cyra Friday11W
Lewis Robinson 12P
A World of Stories
When we thought of the brief "A World of Stories" the first thing that came to mind was a library and, in particular, our school library. Where else could you find a world of stories? The shelves of a library are filled with wonderful stories of magic, mystery, suspense, intrigue, romance, horror, laughter and so much more. You can travel the whole world while never having to leave the room. Our school library is the heart of our school and a place of refuge and escape for the pupils here so we wanted to replicate the magic and wonder of the library shelves in our display.
I started by sending letters to parents, staff, governors and pupils at school, asking them to tell me which book has meant the most to them; whether that is because it inspired them to think differently, had characters they could really relate to, took them to new places, made them feel better or whether it has always stayed with them or they shared it with someone special. I also asked them to tell me which image the book conjured for them.
After receiving lots of responses I began to collate the information. I made book spines to represent each suggested book and made a list of the images people had recommended. To help me to create the pictures which would appear on the shelves with the books I invited a group of pupils, who were talented artists, to a meeting in the library to discuss the brief. These pupils were suggested by the art department or had previously handed in very detailed work to me. We talked about what the finished display would look like and discussed the need to make it a set of shelves which would almost come alive. The pupils each selected several images which they felt comfortable drawing or painting and we split up to work on our separate areas.
The beautiful images created by the pupils came back to me daily and we started putting them together to create our book shelf display. The more we added to it the more magical it became and the more it demonstrated our vision of a world of stories.
It was wonderful to get everyone in school involved, by choosing their favourite books, to see the diversity of books being chosen and the reasons behind these choices. This truly has been a whole school effort and hopefully, the display we have created, which sits alongside the pupil entrance to school, will be a reminder of the importance of reading and the power of books to transport, inspire and change our lives for the better.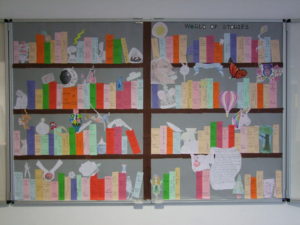 Congratulations to the following pupils who have had their Spine Chilling mini-sagas chosen for publication
Rebecca Humes
Anna Alexander
Georgia Norris
Lomikga Balachandran
Sadia Kaiser
Ella Greer
Ellie McNee
Alexandros Liliglou
Hannah Greer
Fadumo Farah
The publication date for the book is 31st August and a copy will be available to borrow from the library in the autumn. Well done to all pupils who took part.
Some of our successful pupils and staff from previous competitions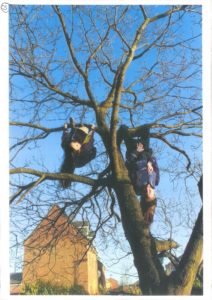 Holly and Miriam. Winners of our Reading in an Unusual Place competition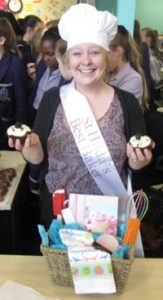 Mrs Sunderland celebrates her success after being crowned St Hilda's Best Baker in our library bake-off.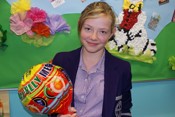 Giant Lolly Winner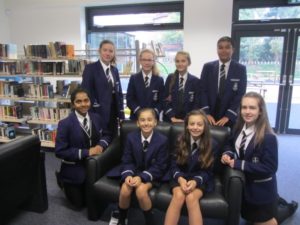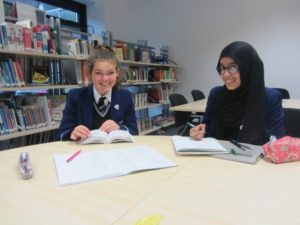 Our successful Sonnet writers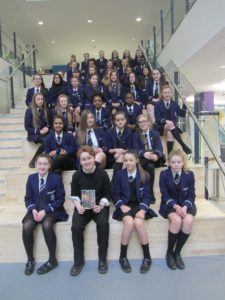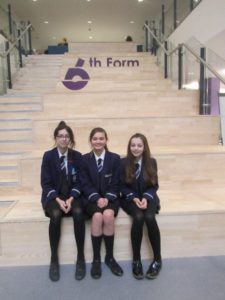 Our Grim Tales authors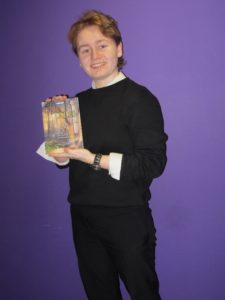 Alex, Year 13. Chosen as best writer in the anthology!