Welcome to the Library!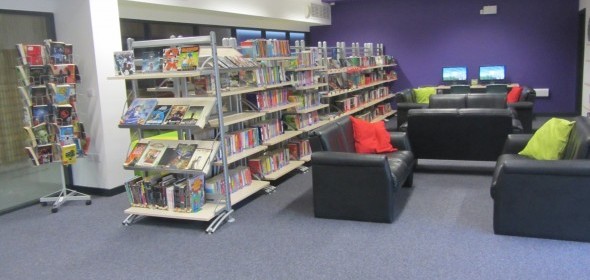 The library at St Hilda's is at the heart of the school. The Librarian, Mrs Hale, has been at St Hilda's since 2010 and is constantly striving to instill a love of books in all pupils through activities, workshops, competitions and displays. The new library has a calm, relaxing atmosphere and is a place where pupils can come at break, lunch or after school to read or study. There is a huge range of fiction, to suit all tastes, a large selection of non-fiction and reference books, magazines, journals and even DVD rental. The library is always busy – it's an ideal place to get together with friends to study.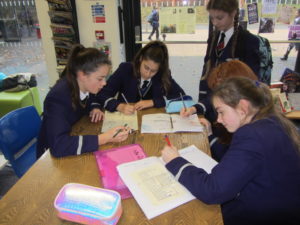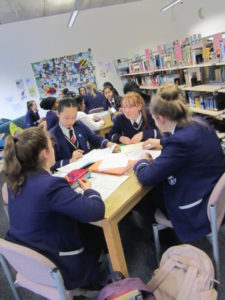 Book Club
The library runs three book clubs each year. One for lower school (Years 7-9) , one for middle school (years 10 & 11) and one for Upper School (for 6th form, staff and parents) There is one meeting each half term, meaning that we read a total of six books each year. The books are chosen based on their content, in the hope that this will generate meaningful discussions. We try to encourage pupils and staff to read books that they may never otherwise have picked up. All opinions are valid and everyone has a chance to talk. The books are rated with a score out of 20, these scores are then averaged out to give us a winning book. The list of books we are reading this year is available from the library.
Competitions

We are constantly striving to get as many pupils involved in the library as possible and try to run events, workshops and competitions as often as we can. We continue to be successful in external writing competitions, information on all of these can be found in the literacy section of the school website.
Homework Club
The library is open until 4.30pm every day except Friday (when there is no after school provision). Pupils from all year groups are welcome to use the library after school to read, research, complete homework or study in groups. The Librarian is on hand to give assistance and advice or recommend resources. There is no need to sign up in advance and there is no minimum or maximum time you need to stay (we just ask you to sign in and out for health and safety reasons). Anyone can come to Homework Club, on a regular basis or as a one off if you have homework to finish or need to wait to be collected. Everything about homework club is flexible and informal to allow pupils variation in their studies.

Pupil Librarian Programme
The Pupil Librarian programme began in September 2014. There are currently 12 Pupil Librarians and 19 Library "shelvers", ranging from Year 7 to Year 11. The pupils are all at various stages in their training but have all been invaluable to the running of the library.

The programme gives pupils a feel for what it is like to have a real job. Positions are advertised, pupils complete an application form, they are shortlisted and then invited for interview. Pupils are required to sign a contract, adhere to a rota and follow a training programme. Hard work rewards them with certificates of achievement and the chance to become Pupil Librarian of the Month. There are also verbal and written warnings for non-attendance and poor punctuality. The pupils involved have gained a lot from the programme, in terms of confidence, new friendships, life skills and organisational skills.
Pupils have already had references to help them complete their Duke of Edinburgh Awards and, as a nationally recognised scheme, can be included on UCAS forms and job applications as work experience or voluntary work.
In the past we have been finalists in the Echo School of the Year Team Achievement Award for the work the pupils have done to promote literacy throughout the school, in March 2019 Emma Weeks was a finalist in the Pupil Librarian of the Year Awards and Victoria Langford, one of our past Pupil Librarians, was named National Pupil Library Assistant of the Year for 2017.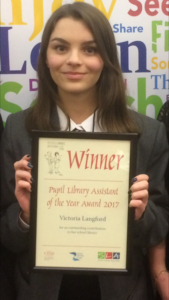 As a school we are so very proud of Vicky and her wonderful achievement. She worked so hard to get to the finals and fought off competition from four extremely competent Pupil Library assistants, from as far afield as Northern Ireland. The judges were very emotional when they announced the winner, stating that they were very impressed by the synergy between Vicky, the school library and the wider school population. The sponsors were so impressed with Vicky's proposals to get more pupils into the library that they gave school a cheque for £500 to make it happen! Please click here to view what the Liverpool Echo had to say. (See the awards section of the literacy page for further