Our Chaplain – Mike Wildsmith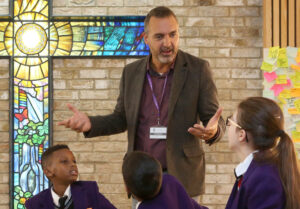 Mike grew up in Yorkshire and came to University in Liverpool in 1985. Having worked as a business consultant for 13 years he was called to fulltime Christian ministry in 1999, serving in churches in Leeds and Liverpool, most recently as one of the pastors at Bridge Chapel in South Liverpool. Mike is now the pastor of Bethesda Evangelical Church in Stockton Heath, Warrington. Mike is married and has two adult children, one of whom – Molly – attended St Hilda's from 2010-2014. He is also one of our school governors.
Students ask our new chaplain a few questions!
How long have you been a Christian?
I became a Christian just before my 11th birthday – and that's just over 40 years ago  – so you can do some maths to work out just how ancient I am! That Sunday evening I realised that all the things I knew about Jesus from my Sunday School class I needed to know for myself; to accept that Jesus died for ME and that he was inviting ME into a living, personal and eternal relationship with him.
We hear you are very musical. What instruments do you play?
I came from Yorkshire to Liverpool to study music at University – so I play piano and saxophone, and back in the day I played the bass in a brass band!
What is your current favourite worship song?
There are so many great songs – both new and old – and I love a mixture of both. But if I'm pushed I'd have to go for two – Boldly I Approach by Rend Collective and Hope and Glory by Tim Hughes. But ask me in a couple of months and it'll have changed!
Can you share one of your favourite Bible verses with us?
Again, there are so many – but I'm going to go for Philippians 1:6, "And I am sure of this, that he who began a good work in you will bring it to completion at the day of Jesus Christ." Those words remind me that what God starts he always finishes – even when I mess things up. If finishing this race called life depended on me and my strength and abilities then it would be hopeless – but thankfully when God rescues us and accepts us into his family HE provides the grace and strength each day and he assures me that I will finish the race because he has hold of me – forever!
Apart from Jesus, which Biblical character inspires you and why?
I love Peter, the disciple. He messed up big time and yet Jesus was so tender and gracious to him and restored him to a place of amazing effectiveness in Christian service. I know I'm often like Peter, but I also know that Jesus loves me in the same way he loved Peter. I also like reading the two letters Peter wrote that are in the Bible – take a look for yourself.
If you could take 2 things with you to a desert island what would they be?
A piano – to keep me sane! And my phone – not so much to call and text but because it has a camera, lots of downloaded music and my bible on it! (I'd have to smuggle a solar-panelled charging unit along too!)
What do you like doing in your spare time?
I enjoy sport – playing cricket and tennis regularly (but not very well) and I like going out with family and friends for meals or to concerts/shows.
How will you help us all at St Hilda's in your new role as a Chaplain?
I really want to serve the whole school – teachers, support staff, pupils, governors and parents – in whatever ways I can. A key part of that is to keep pointing people to Jesus and the Christian ethos of the school, but also to be a listening ear and perhaps offer suggestions or advice when requested. I will certainly continue to pray for the life of the school and for any specific needs that may be shared, whether publically or in confidence. I want to encourage as many people as possible to be involved in the 'worship life' of the school and I'm really excited to see the progress that has already been made in that regard.