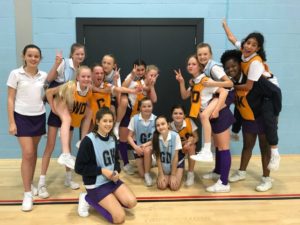 PE news week beginning Monday 11th December
Results from last week:
Netball
Year 7A girls premier league match v Bluecoat School – Won 3 – 1.
Team: Akiya Connor, Gabrielle Cruse, Lara Bratherton, Mia White(Captain), Ella Raley-Williams, Faidra Papagianni, Fran Hardman.
Player of the match Akiya Connor.
Year 7B girls premier league match v Bluecoat School – Won 1 – 0.
Team: Amelia Sanchez / Eleanor Xyri, Evie Corrigan (captain), Isabelle Ashworth, Anya McDonnell , Christina Ogg, Jessica Pindar, Erin McGee.
Player of the match Jessica Pindar.
Year 8A girls premier league match v Bluecoat School – Lost 5 – 1.
Team: Ebun Akinya, TJ Olayoe, Anna Windle, Freya Ambrose, Isobel Davey/Jorja Sumner, Andrea Ellinas (Captain), Clara Gutteridge-Tuso.
Player of the match Ebun Akinya.
Year 8B girls premier league match v Bluecoat School – Drew 2 – 2.
Niamh O'Keefe, Holly Richards, Kirsten Grini/Emily Clare, Elle Frith (Captain), Safah Rasheed/Jess Coltherd, Frances Mendy/Amber Richmond, Georgia Heinz.
Player of the match Holly Richards.
Football
Year 7a boys Liverpool Cup quarter final v West Derby @ St Margaret's – Lost 9 – 3.
Team: Alfie Taylor, Lewis Smith, Ethan Roberts, Ethan Danku, Jamie Pomford (c), Josh Maloney, Sean McFarlane, Kalu Uka, Tom Egan, Finley Liberis, Ellis Ward, Kadir Crawford.
Year 8a boys league match @ Walton Hall pitches – Drew 1 – 1.
Finn Deveraux, Noah Edmonds, Tom Glover, Cameron Scott-Allen, Max Wormald, Ethan Davies, Jack Jevons, Elliot Hunter, Brendon Ndlovu. Michael Lavagne-Slater, Josh Rice.
Archery
Well done again to Samantha Roberts in year 7 who competed at the Archery GB Junior Indoor National Archery Championships on Saturday 2nd December in Coventry. Samantha shot well and achieved 2nd place in the Under 12 Junior Ladies Recurve category.
Fixtures next week:
Football year 7A boys v Kings Leadership Academy @ St Hilda's (Astroturf) – Tuesday 12th January.
All training and clubs in the PE department will continue until Friday 15th December.  There will be no breakfast/dinner/after school clubs during the week beginning Monday 18th December.
Good luck to all year 11 GCSE PE students taking their Unit 1 mock exam on Monday 18th December.