PE news week beginning Monday 12th March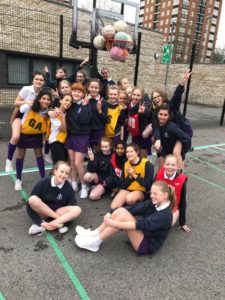 Results from this week:
U16 girls football team defeated Liverpool College 7-2.
Congratulations to the the girls who played on Wednesday after school at Liverpool College. This is a fantastic result for our girls – well done.
Team: Olivia Redhead (Captain), Nihal Matana, Bobbi Marrow, Naomi Rhodes, Megan Whitfield, Amber Lashley, Emily Patterson, Aisha Quartey-Davis, Stephanie Fate, Pelumi Ogunye, Niamh Keohane, Tabitha McKeown.
Year 8A, 8B, 8C boys football LSSP tournament
Congratulations to the A team who won all their games except one. Also well done to the C team who drew 1-1 with the A team!
Player of the tournament:
C team – Rafael Chasapis
B team – Finley Liberis
A team – Alfie Taylor
Year 10 netball Liverpool School's City tournament.
The year 9 and 10 netball teams played in the city netball tournaments on Monday 5th March at Archbishop Blanch.  The year 9s lost in a close game against St Edward's 8-7 and were beaten by The Blue Coat School 5-2.  The year 10s drew against Liverpool College but were then knocked out by St Edward's.  Well done to all the students involved.
Year 10 team: Alice Hughes, Rawia Kassim, Kendra Kagbo, Amelia Prendergast, Bobbie Willis, Hollie Windrow, Emily Patterson, Winnie Yu, Eva Richardson (Captain).
Year 9 team: Lucy Burke, Lucia Lui, Rebecca Humes, Emily Mellor, Sophie Littlebyrne, Italia Kelly, Ellie McNee, Amber Lashley (Captain), Lydia Mason.
Year 9 table tennis finals at Fazakerley High School – postponed due to snow.
Fixtures coming up next week:
Year 8 netball Liverpool School's City tournament at Archbishop Blanch – Monday 12th March.
Year 9/10 girls basketball tournament @ St Hilda's – Monday 12th March.
Year 7 boys football v Halewood Academy @ Halewood Academy – Tuesday 13th March.
Year 7/8 boys rugby v St Margaret's at St Margaret's – Wednesday 14th March.
Cross-country all years @ Wavertree playing fields – Wednesday 14th March.
Indoor athletics year 7 boys, year 7 girls, year 8 girls Merseyside Finals @ Wavertree sports centre – Thursday 15th March.
Year 8 boys football Liverpool Schools' Cup game @ The Blue Coat School – Thursday 15th March.