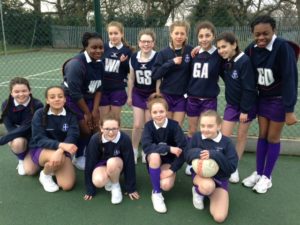 PE & Sport
Please view our curriculum plans, please click the following:
Year 7      Year 8      Year 9      Year 10      Year 11      Year 12      Year 13
To view the PE & Sport Department Feedback Policy, please click here.
Intent
Through PE at St Hilda's, we aim to inspire, promote and allow students to gain:
Enjoyment of physical activity and exercise
Lifelong physical activity and healthy lifestyles
Perseverance to strive for personal excellence, to succeed and excel
The importance of fair play, honest competition and good sporting behaviour
Improved application and understanding of health and fitness and its benefits
Competence in developing future employment skills
Improved skill sets in sports and activities that students enjoy
A starting point and to be enthused by the opportunity of having a career within sport, fitness or health
Inspiration to study further at higher levels of education
Welcome to the curriculum page for physical education.  This page contains information about the activities and roles available to pupils from year seven through to year thirteen.  We offer a wide and varied curriculum which encourages participation for all pupils regardless of their level of skill and fitness.  We also run a busy extra-curricular timetable and take part in all the School Games competitions run by the Liverpool Schools Sports Partnership alongside traditional competitions such as English Schools and the Liverpool Schools league competitions.
Key stage 3
Students have the opportunity to learn up to twenty five different sports.  The curriculum is directed at this age and pupils will participate in two different activities for one half term block. 
Year Ten and Year Eleven Core PE
Pupils can choose a specific sport from a wide range of activities including traditional sports such as netball, football or tennis and new activities such as ultimate frisbee, handball and dodgeball.
Academic Curriculum
Pupils have the opportunity to study GCSE physical education (AQA specification) in years nine, ten and eleven.  They can specialise in their chosen areas for practical assessments such as dance, games or fitness.
Pupils have the opportunity to study BTEC Sport (Edexcel specification) in year 12 and 13.  Students can specialise in one or two sports for their practical assessment.
Other information
For the KS3 reflection sheet, please click here.
For the KS3 Assessment sheet, please click here.
For the extra-curricular timetable for the Autumn Term 2020, please click here.
PLEASE NOTE: All clubs have a restriction on the number of students that can attend. Students attending after-school clubs, need to pre-book their place at the club via the St Hilda's Cloud. Bookings are on a first come – first served basis. For clubs before school and at lunch time, students do not need to pre-book a place and, again, places will be limited and on a first come – first served basis.
---
IMPORTANT NOTICE – EXTRA-CURRICULAR ACTIVITIES
In light of the new government regulations and the fact that the school is temporarily closed to the majority of students, extra curricular activities in school are suspended at present. Any bookings on our school cloud system will not be valid at the present time.
We will be moving some of our extra curricular activities online and will be virtually available!
Watch this space!!
---
For information relating to the PE kit, please click the links below:
PE kit update letter relating to the wearing of leggings or 'skins' under PE shorts or skorts 
PE kit from September 2020 information
PE kit from September 2020 (including new shirt design)
Suitable trainers for PE (including examples of unsuitable trainers)
For the attention of years 8 to 11 students
Please note: If your son or daughter requires a new PE kit when they return in September, they should be looking at purchasing the new unisex white St Hilda's PE top rather than a plain white polo. If your son or daughter doesn't require a new PE kit they may continue to wear the original kit.
We take part in School Games competitions.  To find out about competitions please visit www.lssp.co.uk
Our aim is for pupils to enjoy physical education in a safe environment. Pupils should have the opportunity to try a large number of sports at key stage three and specialise in a pathway from year 9 upwards.
Mr M. Lloyd – Head of Physical Education