School Meals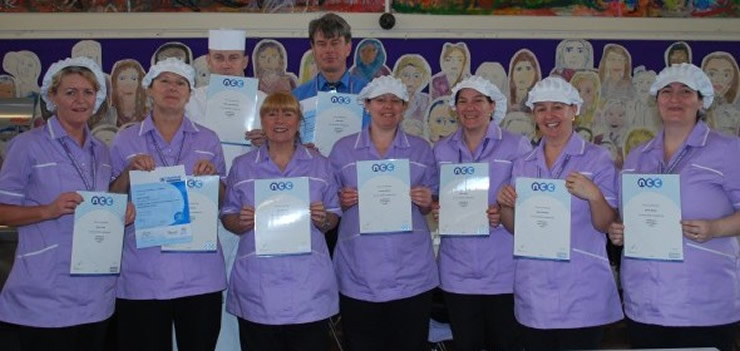 The catering department here at St Hilda's provides an interesting, tasty, nutritional hot and cold menu within educational authority Healthy Eating guidelines. Ingredients are sourced locally whenever possible and seasonal specialities included to add variety.
The cost of a main school meal is £2.20 per day. There are regular favourites of the students such as roast dinner on Thursdays, chicken in a bun or fish and chips on Fridays. We also have a kiosk that sells freshly made sandwiches as well as salads, rice and fresh meats.
Please click here to view examples of our weekly menus. Please note that these are just examples and are subject to change.
We welcome ideas from students for occasional Themed Days which give the pupils the opportunity to experience dishes from around the world.  Events in the last year have included Greek Food Day, Caribbean Food Day, World War I Food Day and Chinese New Year.
Guidance on healthy packed lunches:
• Packed lunches should be based around high fibre foods to provide sufficient energy to maintain concentration throughout the whole school day, e.g. bread pasta etc.
• Packed lunches should encourage students to have 5 portions of fruit and vegetables per day.
• High sugar, high fat and high salt products should not be included e.g. crisps or salted nuts.
• Confectionery should not be included e.g. chocolate bars, chocolate coated products, sweets or cereal bars.
• Cakes or biscuits not containing confectionery can be included as part of a balanced meal.
• Drinks permitted to include are plain water, low fat milk, pure fruit juice (not more than 150ml), vegetable juice, yoghurt drinks or flavoured milks.
For any queries about allergens, the menu, or guidelines for healthy packed lunches, please contact the Catering Manager.
Free School Meals
For information regarding free school meals, please click here.