Year 6 to 7 Transition
We would like to welcome our new year 7 pupils who are starting at St Hilda's on (DATE TO BE CONFIRMED).
Our induction day for year 6 pupils is on Wednesday 8th July 2020.
Our induction evening for parents/carers is on Wednesday 8th July 2020 at 6.30pm -7.30pm.
(PROGRAMMES TO BE SHARED IN ADVANCE OF EVENTS – FORMAT MAY BE VIRTUAL)
For the induction letter for new year 7 pupils please click here.
Welcome to our virtual tour of the school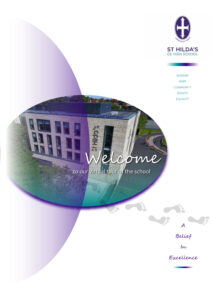 This picture booklet (see links below) is a virtual tour of St Hilda's to help you get to know your new school. We also hope that you find it interesting and useful in helping you to find your way around when you arrive. It contains pictures of different parts of the school and gives you the opportunity to write on or key-in a question about each area, if you have one. Write/key-in any questions you might have about the areas shown in the pictures within the adjoining boxes and don't forget to ask your form tutor for the answer when you start with us.
To use the key-in version of the booklet, first download it to your computer.
If you prefer to key-in your questions on screen, please click here.
If you prefer to print out the booklet and write on your questions, please click here.
Welcome to your new school – transition workbook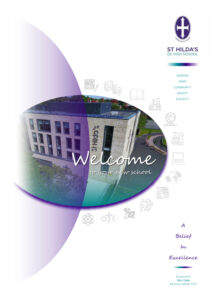 This workbook has been sent to you in the post, but in case it doesn't arrive, please download the booklet using the link below. The workbook has been created so we can learn more about you. Please print out the workbook, complete it, and then bring it with you when you start at St Hilda's.
To access the workbook, please click here.
Starting Secondary School from Lynne McCann
Lynn McCann is a Specialist in ASD and has produced this short video for young people to watch to support them in their anxiety about starting a new school or returning to school.
SEND related information
For information regarding the above, please click here.
Term dates
For term dates, see below (POSSIBLY SUBJECT TO CHANGE DUE TO CURRENT PUBLIC HEALTH SITUATION).
2020-2021 School Calendar

Policies
For all of our policies please click here.
For copies of any of the following documents please click on the relevant document:
Parent portal
Parent Pay  (Please note that the biometrics system is suspended at present due to the current public health situation).
Sample timetable
School bus – route 2018 onwards  (Subject to any restrictions imposed due to public health situation).
School rules
Student planners and homework  (Subject to change).
The School day  (Subject to change).
Digital images agreement
ICT Acceptable use agreement – Parents
ICT Acceptable use agreement – Students
Privacy notice 2018 onwards
Behaviour for Learning
Student Rewards
Uniform
St. Hilda's expects high standards of its pupils and uniform and appearance are no exception.
Please click on the links below to access our uniform information:
For uniform sizes, fitting information and ordering, please click here.
PE kit from September 2020 information
PE kit from September 2020 (including new shirt design)
Suitable trainers for PE (including examples of unsuitable trainers)
Trutex at AMJ, London Road and Trutex at Liverpool Schoolwear, St. Mary's Road/Aigburth Road are the only two outfitters appointed by St. Hilda's, but are completely separate companies. You will not be able to order from one shop, then collect or swap from the other. See below for ordering information and size guides
298 St. Mary's Road Cressington Liverpool L19 0NQ
Click here for size guides and ordering information