House System Ethos and Vision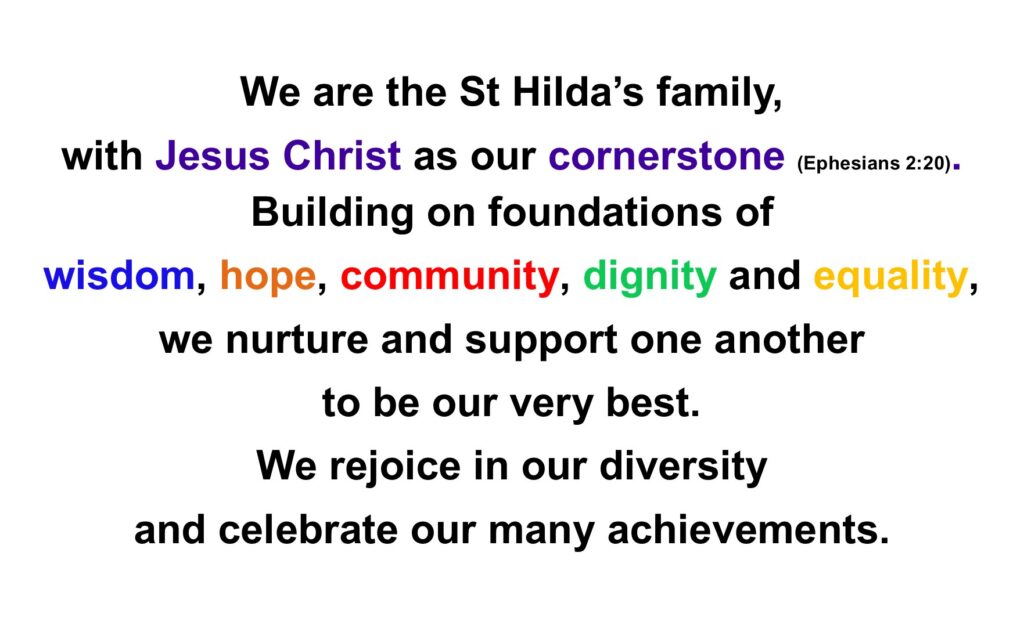 The community of St Hilda's CE High School is a family first and foremost. Our school is not just a place of learning, but a safe and nurturing environment where all our students can feel curious and creative, can be challenged without fear of failure and feel secure enough to be whoever they wish to be.
Our House system is an integral part in St Hilda's community; ensuring that the students and staff all feel part of a smaller, closer family within the wider school. Being part of the house family enables students to succeed– academically and socially. Our students are encouraged to participate and contribute to the wider life of the school through sports and inter-house competitions, academic clubs and events, music and drama productions as well as supporting each house in leadership roles. Students build a greater spiritual understanding of our Christian community –working together to support House Charities as well as participating in our whole school worship.
Our House system encourages them to develop their passions, have dreams and take strides towards achieving those dreams. Ultimately they will progress to become thoughtful, responsible and compassionate members of society ready to contribute to the wider world beyond school.

How did we decide on the House names?
We consulted with students as well as staff and they came up with suggestions which where narrowed down to a selection of key figures within the rich history of Liverpool. Staff championed each of the suggestions and students voted giving us the most popular choices.
Our houses are named Roscoe House (after William Roscoe), Aspinall House (after Margaret Aspinall), Wilkinson House (after Kitty Wilkinson), Brodie House (after John Brodie) and Walker House (after Gee Walker).
(Click on the House Badge at the bottom of this page for further information).
How are Form Groups arranged in each house?
When you enter school you are placed in a Form Group. There is at least one form group from each year in each House. You will meet students of all ages in weekly House Assemblies and regular house events. Each House creates a sense of identity, pride and evokes some healthy competition within the student body as well as the staff.
What do Form Tutors do?
Form tutors are placed with form groups and they will stay with that group all of the way through school. Your tutor welcomes and cares for you each day. Form tutors also speak to school staff including the Head of House and your parents to ensure you are happy in school and are making good progress. They are the people that see you every day, know you best and someone you can turn to when you need them.
What do the Heads of House do?
Each Head of House encourages their family of students and drive their house forward with their own individual vision. They work together with a House Officer to lead and support you and all of the students in their care. Your House leaders will be every bit as competitive as you, if not more so. All staff are placed in a House and they support the Head of House. Staff work together with the students to make that House and the best in the school.
Are there opportunities for leadership in the House system?
Each form group chooses Form Representatives and they are lead by the House Captains. Your House Captains will lead events to support a charity that you will help to choose.  House Captains take part in the School Parliament lead by the Head Girl & Boy as well as the College leadership team. Every student can be heard and have a valid point of view expressed clearly. The school parliament is key to decisions made and is able to impact so positively on school life.  You could also become a House Ambassador and become a role model to younger students supporting them and helping them in times of need. There is also the chance for you to become Head Girl or Boy when you reach year eleven. We believe in empowering you to become, thoughtful, caring and aspirational leaders with high expectations for your forms and your houses.
How is each House identity shown around school?
You will see house badges displayed all around school. You will wear a school tie that has your specific house colour on it. The front of your student planner will also have your house colour on it and as you buy your PE Kit each year, the top and shorts will have your initials embroidered on in house colours
How are you rewarded in school?
You will have the opportunity to represent your House in regular competitions organised by the house captains as well as subject based events. You will be awarded house points in all areas of school, winning competitions to producing good work, from putting maximum effort in or simply doing the right thing. House points will allow you to attend rewards trips, be entered into prize draws, have messages sent home, receive certificates.  Your points can also be used in the rewards shop regularly each term.
Every House point from every student is added up. The House with most House points overall will be awarded The HOUSE CUP at the end of the year. The winning house attends a rewards trip. Will your house be the top house this year?