Special Events
There's always something going on at the library and details of all special events can be found on this page.
Harry Potter Day
Harry Potter Day was a huge success, with pupils having magical lessons and staff competing to win the costume competition. Congratulations to Mrs Martin whose "Fat Lady" costume was judged most original by our pupil judging panel. The day was concluded with a Harry Potter quiz night, which was attended and enjoyed by many pupils, parents, staff and their families. It was a really fun evening which showed just how competitive Harry Potter fans can be! Well done to Dumbledore's Army who won the quiz, Tomas Meredith who won best dressed child and our many raffle winners – especially Luke Stafford, year 7, who won first prize.
The evening raised over £400 which will be used to purchase resources for our library.
Thank you for your support and please take a look at the photos below.
Cathy Cassidy visit
We were so pleased to host Cathy Cassidy's book launch last week for Sami's Silver Lining! It was a wonderful day, during our Readathon week, which celebrated reading and books. Holly Hughes and Isabel Blore (year 10) organised and ran our "slipper day" back in May to raise funds to bring Cathy into school but she kindly waived her fee, saying that it was a pleasure to spend her launch day in such lovely surroundings. The money we raised will go to refugee charities suggested by Cathy – as the main character in her new book is a 15 year old Syrian refugee.
For some of our pupils, Cathy Cassidy's books were the first they'd ever really read and it was so exciting for them to meet her 'in the flesh'!
We even had special guests from Greenbank Primary school, year 6 pupils celebrating the end of their SATS. They had the opportunity to buy a copy of Cathy's book and get it signed. It was lovely to further strengthen our links with this local school and share the excitement of this wonderful event.
We would like to thank Cathy for taking the time, during what was a very busy week of book events, to spend the day with us.
Please see below for the photographs which were taken on the day.
World Book Day
World Book Day was a great success this year. We saw some very unusual and imaginative costumes and the library was full at lunch time for the judging. Congratulations to our three winners!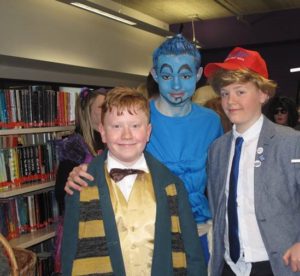 See below for more pictures of the day.
The Book Exchange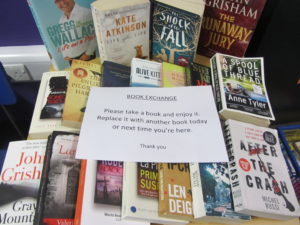 We are starting an adult book exchange in school to promote reading for pleasure in staff and parents. If you have any books which you would like to pass on they would be gratefully received – please send them into school for the attention of the Librarian. Whenever there is an event in school; parents evenings, information evenings, open events, there will be a table of books in the atrium. Help yourself to a book or drop one off and enjoy!
Readathon
Thank you to everyone who took part in the Readathon in June. We raised a total of £295.49 for children in hospital. This means that we have also received a book voucher for £59.10 to purchase new books for the library.
A special well done to:-
Ben Hale                                                           08AM
Heather Robertson                                         09GD
They will each receive a £5 book token, sent to us for our two best fundraisers, they raised £30 each.
During our Readathon week we  took part in Drop Everything and Read. Every person in school put down what they were doing and picked up a book. There was such a calm, relaxing atmosphere in school while everyone enjoyed their book!
Waterstones Visit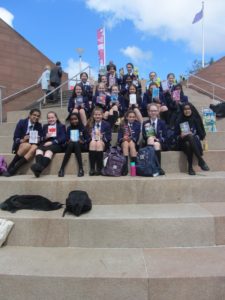 Pupils who attended all book club meetings were joined by selected members of Creative Writing Club for a morning in Waterstones book shop in Liverpool One. We had a lovely time and everyone received a free book!
(PIC Book Club Reward Trip to Waterstones July 2016)
Author visit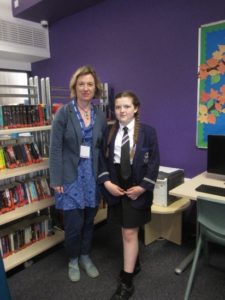 Joss Stirling, author of the "Finding Sky" series of books, joined us in July for a much anticipated day of reading, workshops and book signings. The day was thoroughly enjoyed by all pupils who were invited to take part.
Pupils were chosen because they had read the Finding Sky series, they had a love of reading or creative writing or as a special treat for outstanding work or behaviour in their English lessons this year.
The workshops explored how writers come up with original ideas, how they used things they had read or seen and places they had been to as inspiration, culminating in the group beginning to plan their own original story.
Pupils have been asked to write a section of this story over the summer, with the hope that they can be published in a school book early next term. We had story ideas ranging from a horror / situational comedy set in Heathrow airport with a young undertaker as the main character, to a fantasy / legal thriller set in Texas with the main character a young cowgirl named Jamie who has a riding accident involving a shape shifting horse or Pegasus.
The pupils loved being imaginative and coming up with ideas which were original and exciting. They went away from the session inspired and full of ideas.
Book Fair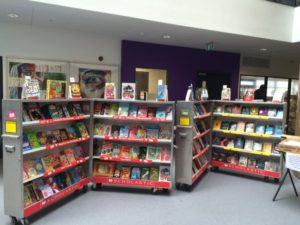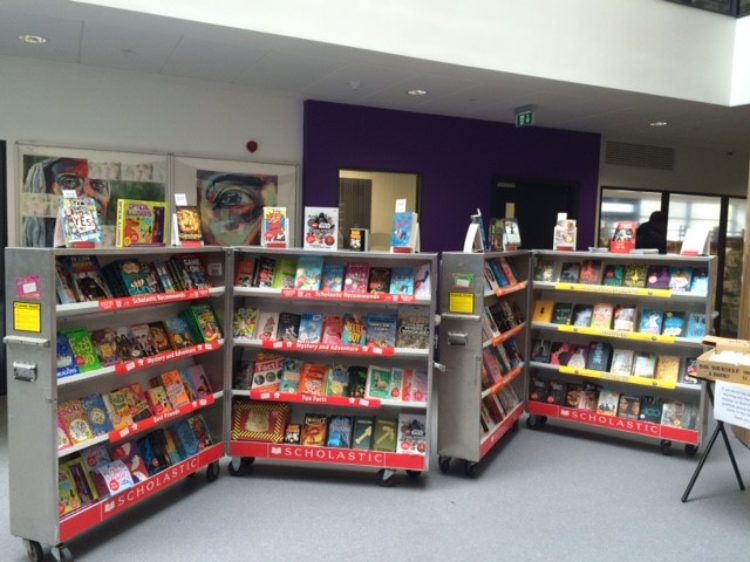 The Scholastic Book Fair was in school from Monday 25th April until Tuesday 3rd May and was organised this year by Victoria Langford and Emma Norris, two of our senior Pupil Librarians, and staffed by pupils from all year groups.
The fair was very busy and we managed to sell £609 worth of books which meant that we could choose £250 of free books for the library.
Thank you to everyone who supported the fair.
This year World Book Day took place on Thursday 3rd March. To celebrate we allowed pupils and staff to dress up as a character from a book. We also ran a competition where pupils had to match famous quotes with the books they were taken from.
Our whole school read was also a great success. A section from a ghost story was read by every teacher, at the start of each lesson, meaning that as pupils moved from class to class they were treated to the next instalment. This activity changed the whole atmosphere in school, putting a real focus on the pleasure of reading.