Our Chaplain – Josh Keiley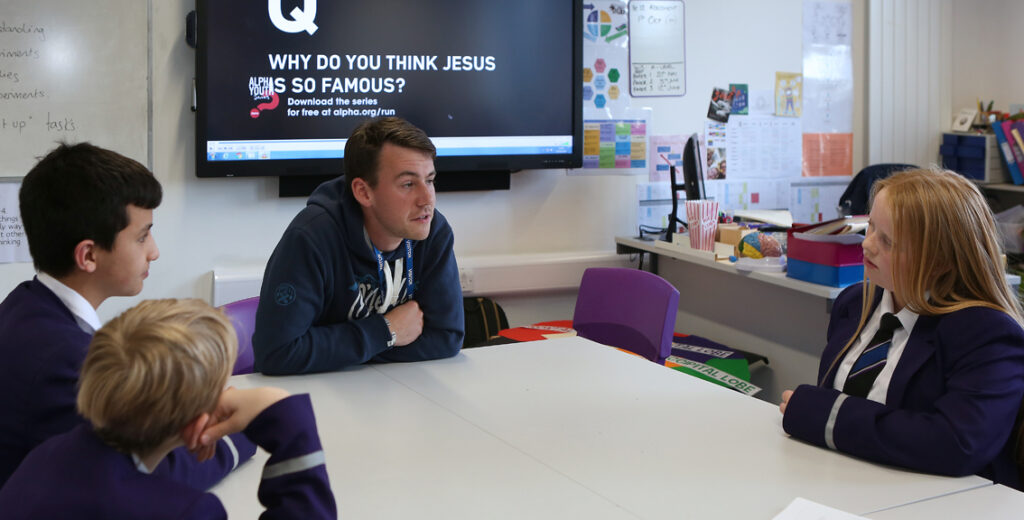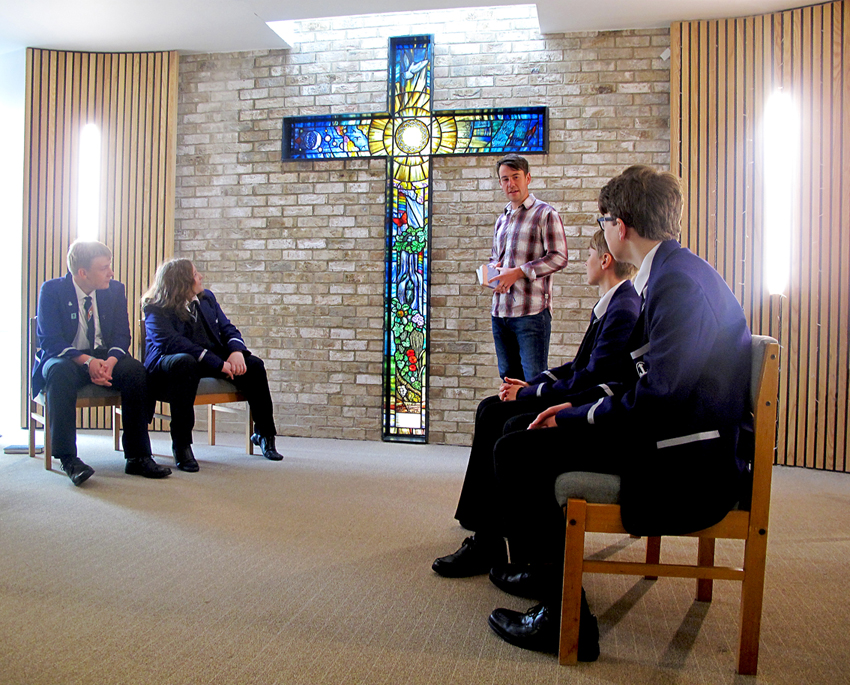 Josh is born raised in Liverpool. After GCSE's and A levels, he went to Liverpool Hope University and studied Primary school teaching and fine art. On graduating, he taught for four years in Walton and then left teaching to work as a school's and youth minister for Bethel Church in Tue Brook. Josh is married and has two young sons. He has worked in our school since 2016, supporting the Christian Union and taking assemblies.
STUDENTS ASK OUR NEW CHAPLAIN A FEW QUESTIONS!
How long have you been a Christian?
As a young boy, I had grown up going to church and had learnt lots of the Bible stories. I always enjoyed hearing them and imagining what it would be like to be there, but for me they stayed as stories. All that changed when I went to a summer camp called MCYC in 1999. It was my first time away from home and I remember two things about that week: missing my mum loads and the night we had a bonfire. Around the bonfire, we sang songs, played games and had hotdogs but then were was a quiet moment when some of the adults and children stood up and talked about how much Jesus meant to them. I was used to hearing adults talking about Jesus but to hear my friends talking about Him too really struck me. They talked about how He had died for them because He loves us, how He went with them into school and family life and how excited they were to trust in Jesus. As I listened, it dawned on me, I knew about Jesus and could answer loads of Sunday School quiz questions on Him, but I didn't really know Jesus. I didn't know Him as my friend and even as the one who saved me. That night I asked Jesus to forgive me for the wrong things I had done (sin) and trusted in Him.
What is your current favourite worship song?
Can I give you a list? I love any song that reminds me how great God is and allows me to sing it out loud (although I'm pretty sure that people standing around me wish I'd sing a bit quieter or more in tune!). At the minute I can't get enough of 'Great are you Lord', it is covered by lots of different bands but I'm listening to Casting Crowns version.
Can you share one of your favourite Bible verses with us?
Joshua 24:15 says: "… choose this day whom you will serve, […] But as for me and my house, we will serve the Lord."
Joshua is getting older and he has followed God out of slavery in Egypt, through the wilderness and into the promised land. He thinks back to all of the good God has done for them and then he challenges all of the Israelites to choose who they will serve. He makes a stand that, even if others choose to turn away from God, he and his family won't.
I pray for my wife, my boys and myself that all the days of our lives we will remember God's goodness to us and continually choose to follow Him.
Apart from Jesus, which Biblical character inspires you and why?
I could pick so many different people for this one. Each person in the Bible is presented honestly in their strengths and their weaknesses and so I'm am encouraged when I read about their faith. I think Boaz is a real inspiration to me. He is the definition of a gentleman. He never takes advantage of Ruth but loves, honours and protects her. He was even willing to lay his own wealth, image and respect on the line to give her the best. And his love was not just based on physical attraction, he fell involve with her heart too. I think that's inspiration.
If you could take 2 things with you to a desert island what would they be?
It would have to be my Bible. It's a great source of encouragement and challenge and I would be able to happily waste the days away like that. I think the second item would have to be an axe, I could build shelters, chop firewood and I also went axe throwing recently and that was loads of fun!
What do you like doing in your spare time?
I love building and making things, especially up cycling and saving things from the tip! I'm currently repairing a sailing boat that is going to become a play centre with a sand pit in the back and a climbing frame on top. I think it is for my boys although, I'll probably spend a lot of time in there too!
How will you help us all at St Hilda's in your new role as a Chaplain?
Because I know what it is to be loved and saved by God, I can't help but love other people! It is such an honour for me to be able to serve you all as chaplain. I hope that you find you can approach me very easily and I'd love to hear about your successes and high points as well as if you are finding things though. I will promise to pray for you and may ever be able to offer you some advice or encouragement. We are all on the life journey together ad so it is important that we encourage, support and celebrate with each other.
I would love to explore what being a Christian means and hear your thoughts on this too. I hope that we can invite some people into school to explore this more and you may be surprised along the way!
Most of all, I hope to be able to point you towards Jesus and the our Christian ethos. I'll never force this upon you, but if you would ever like to know more about what it means to follow Jesus, or how a faith in God is an amazing source of strength, then I will always be happy to chat about it.