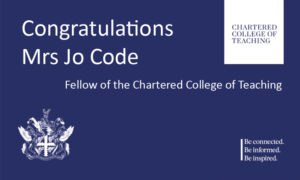 Fellowship of the Chartered College of Teaching
Our headteacher Mrs Jo Code has been made a Fellow of this prestigious group where she joins 800 other Fellows.  Just to give this a bit of context there are approximately 208,300 secondary teachers in the UK of whom 3,600 are secondary headteachers.  These statistics clearly show what an honour it is to be made a Fellow.
Since joining St. Hilda's Mrs Code has taken on as her own all the great things about our school whilst bringing the outsider's eye to things that needed to be adapted, altered or just ditched.  We are now a fully co-educational Christian school offering a wide-ranging educational experience to our pupils and students, helping them to develop as clear thinking, fair and hopefully emotionally stable people able to cope with whatever life may throw at them.
Mrs Code has instigated changes at St Hilda's that are having a profound effect on school life one is the emphasis on Teaching & Learning.  It is perfectly possible to teach good lessons but if the learning part isn't evaluated in detail, we cannot be sure that everyone has actually learned from the experience this is why we now focus on both halves of the educational coin.  This is one example of the difference Mrs Code has made and there are many others.
What will this fellowship mean?  It is a national recognition of achievement as an educational leader, it provides support and the opportunity to exchange ideas about education with others in the country.  This fellowship shows pupils and students that we are all learners it is a lifelong process and we should take every opportunity we are offered.
Finally, we must do something about the word Fellow we are in the 21st century – only joking it is a real honour.