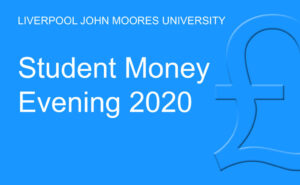 Date: 13th February 2020
Time: 17:30-19:00
Location: John Lennon Art and Design Building, Duckinfield Street, Liverpool, L3 5RD
We would like to invite all prospective Higher Education students and their parents or supporters to LJMU's annual Student Money Evening. The event is aimed at anyone who is thinking about studying at University in 2020 and wants to find out more about student finance. You do not have to be applying to Liverpool John Moores University to attend the event – it is open to all and will benefit anyone considering starting university in September 2020.
How does Student Finance work?
What's the difference between a scholarship and a bursary?
How will I repay any student loans I take out?
What support is available to students who have children or other dependants?
Find out the answers to all these questions and more by attending a talk by Lynne Condell MBE, Manager of LJMU's Money Advice Team, former Chair of the National Association of Student Money Advisers (NASMA). Refreshments available upon arrival and the talk will start at 6pm.
ADDITIONALLY: You will be able to ask our experts about student accommodation and disability support. Speak to some of our current students about their money management tips.
Liverpool John Moores University Outreach Team
TEL: 0151 231 6384
EMAIL: outreach@ljmu.ac.uk
THE EVENT IS COMPLETELY FREE TO ATTEND, BUT BOOKING A PLACE IS ESSENTIAL. PLEASE REGISTER AT https://www.ljmu.ac.uk/about-us/events/2020/2/13/student-money-evening-2020