Mental Health, Well-being and Safeguarding support
Sources of Support, Advice and Information
Safeguarding Resource Hub
The Safeguarding Resource Hub is:
A free online directory with links to hundreds of key national resources
Quick and easy to use
Free to all children, young people, adults, parents and carers, and professionals
Targeted resources for each user group
Empowers everyone to find the advice and guidance they might need
Find out more at www.safeguardingresourcehub.co.uk
---
Do you want to become a hairdressing professional?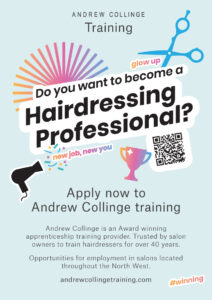 Please read the Andrew Collinge hairdressing training academy poster.
To view, please click here.
Support and information for parents and carers

"The Parents' Guide To" provides a range of free support for both parents of sixth form students as well as those taking GCSEs – including guides, useful articles, a Q&A system where they answer questions personally, live chats and a blog with the latest news. They cover all the important issues and more information can be accessed via the link below:
www.theparentsguideto.co.uk/support
Where can I go to for mental health support?
​A comprehensive guide to organisations that can support young people, parents and carers with wellbeing and mental health issues can be found by clicking the following link:
https://dfemedia.blog.gov.uk/2021/02/01/mental-health-resources-for-children-parents-carers-and-school-staff/
Young Minds – Supporting Parents Helpfinder

Young Minds have created a useful 'Supporting Parents Helpfinder'. By answering six questions, parents can find out how to support their child's mental health during the pandemic (and beyond).
There are some great tips on the website. Please click on the link below.
https://youngminds.org.uk/supporting-parents-helpfinder/
Please let us know if you have any concerns or if we can help at all.

Children's Mental Health Week is taking place on 1-7 February 2021.
Parents & Carers
The theme of this year's Children's Mental Health Week is Express Yourself.
Express Yourself is about finding ways to encourage children and young people to share feelings, thoughts, or ideas, through creativity. It is about finding a way to show who they are, and how they see the world, that can help them feel good about themselves.
As parents and carers, you play an important role in your child's mental health. Check out Place2Be's free resources below.
https://www.childrensmentalhealthweek.org.uk/parents-and-carers/
Thursday 4th February is Time To Talk Day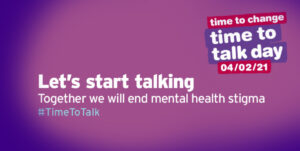 1 in 7 young people (and 1 in 4 adults) will experience a mental health problem in any given year, which is why talking openly about mental health is so important.
Time To Talk Day is a chance for all of us to talk about mental health, to listen, to change lives. A small conversation about mental health has the power to make a big difference. Let's never underestimate what listening, being understanding, showing empathy and not judging can do for someone who's having a tough time.
The following clip says it all:  https://www.youtube.com/watch?v=irADsjrhljI
The Teen Sleep Hub……. providing the support you need to achieve a good night's sleep

Do you have questions? Need to talk about your sleep? Looking for some advice?
Award-winning voluntary organisation, The Sleep Charity, has launched a new live chat service to support teens who are suffering with sleep issues.
The new service, which is being run on Tuesdays and Thursdays 6-8pm on the charity's Teen Sleep Hub website, enables any young person who is experiencing sleep problems to chat directly with one of its trained sleep advisors to get confidential advice and brush up on sleep knowledge.
A free Sleep e-book can also be downloaded.
For more information, please click here.
Wellbeing and Mental Health During Covid 19
An information booklet for families can be accessed on the link below:
https://www.every-life-matters.org.uk/wp-content/uploads/2020/04/ELM006-COVID-19-public-info-a5-booklet-AW-online-1.pdf
Support for teens with sleep problems
The Sleep Charity has launched a Teen Sleep Hub live support line. It also has an excellent e-book on its website about teen sleep problems.
Further information is available on this link  https://teensleephub.org.uk/
New guides on exams for parents and carers
The Parents' Guides to Studying for GCSEs and A levels in 2020/2021.
There are two new, free guides for parents/carers, advising how to help children stay on track studying for either GCSE or A levels this year now that schools are closed (to the majority of students) and most official exams have been cancelled.
Click the link to download the guides
https://www.theparentsguideto.co.uk/school-newslett
Information for parents/carers, from the Lucy Faithful Organisation, on keeping children safe from sexual harm
With the majority of children now being schooled from home, it's important that parents and carers are able to help keep children safe, both online and in person.
A return to home learning for many children comes with difficulties, but it's vital that adults are aware of the risks of children working online, how to spot the warning signs of abuse in both adults and children, as well as knowing how to start difficult conversations and get help.
For further information, please follow this link:  https://www.parentsprotect.co.uk/
Supporting Teens through Lockdown – a new article from The Parents' Guide
The restrictions and limitations in place to contain Covid-19 look set to remain tight through the early part of this year. For teens struggling to come to terms with the length of time this pandemic has been ongoing, and the negative impact it has had on their lifestyle, it might be helpful to help them identify and focus on the positive parts of 2020, enabling them to increase their mental resilience as they embark on 2021.
The Parents' Guide's new article on this topic can be found on this link:  https://www.theparentsguideto.co.uk/post/reframing-the-narrative
'The Parents' Guide to' latest newsletter
'The Parents' Guide to' latest newsletter is now available.  To view, please click on the link below:
Personal statement resources (suitable for parents of sixth formers). For students still hoping to apply to university for the 2021/2022 academic year it would be great if they gave some thought over the summer holidays about the sorts of things that they might want to include in their personal statement – ideally returning to school with a completed first draft.
Tips for parents/carers regarding teenagers during lockdown
Teenage brains work differently than adult brains. Developing independence and freedom is one of the central parts of being a teenager, and at the same time they're also relying on the impulse areas of their brains rather than the decision-making areas of their brains.
The Barnardo's organisation has some useful tips and advice relating to teenagers during periods of lockdown.
To access this information, please click here.
The Parents' Guide to:
Homelife & Study 2020 – 2021 – to access the information, please click here.
Helping your child know what's next – to access the information, please click here.
Self-care and welfare pack
The last few months of lockdown have been tough for most of us. We haven't been able to see our friends, go about our lives in the way we would like to and have fun.
Self-care is all about what you can do to help yourself feel better or to keep yourself feeling good. It's a way that we can look after our own mental health and wellbeing.
There are over 90 self-care strategies identified within the attachment for you to try and they are suitable for all ages.
To view, please click here.
Information for parents and carers on keeping children safe from harm and abuse
This comprehensive guide includes information on, amongst other topics, Online Safety, County Lines, Teenage Relationship Abuse, Mental Health and Child Exploitation. It is full of links to additional sources of information on many other child-related issues.  To access, please click here.
Phone and on-line psychological support services for adults
Mersey Care have issued a list of contact details for adult psychological support services and the information can be accessed by clicking here.
Managing feelings about Lockdown easing – information from MIND and the Mental Health Organisation
Lockdown has been difficult for many people. But when we were in full lockdown across the UK things might have felt more certain, as the rules were more clear. Now things might start feeling less clear, and there may be new challenges.
MIND and the Mental Health Organisation both have information on their websites which may be useful.
Their information can be found on the links below:
Mental Health Organisation – to view please click here.
MIND – to view please click here.
Health advice for families from the World Health Organisation (WHO)
The COVID-19 pandemic means that many people are staying at home and doing less in terms of social interactions and exercise. This can have a negative effect on physical and mental health. Below is advice on various topics to help families stay healthy and safe during this period.  To view, please click here.
10 tips for parents/carers on helping young people to cope with change
The YoungMinds organisation has produced a Coping With Change During Lockdown poster for parents/carers. To view, please click here.
Helpful information from MindEd on increasing young people's resilience
The following two links contain useful information from MindEd on supporting young people to be more resilient so they are able to bounce back from, or overcome, setbacks, obstacles or disappointments, and can also keep going in the face of challenges.
For link 1, please click here.
For link 2, please click here.
Internet safety advice for parents/carers
Some useful and informative advice from Thinkuknow, relating to young people staying safe on-line. To view, please click here.
Bite-sized on-line training sessions for parents/carers from CAMHS Liverpool
CAMHS Liverpool are offering bite-sized (30 minutes) training sessions for parents, carers and professionals.
Topics include:
Embracing Uncertainty
Understanding Stress Responses
Eating Disorders
Self-harm
Social Media and Mental Health
Adolescent Brain Development
There are several sessions available and booking can be made on the link below.
https://www.liverpoolcamhs.com/training/
New telephone support service for anyone aged 16+
There is a new telephone support service for anyone aged 16+.
The line (0151 473 0303) is available every day from 8am to 8pm and is staffed by NHS Mersey Care.
The service offers support for anyone who is experiencing worry, stress and/or low mood as a result of the Covid-19 situation.
For more information, please click here.
Bereavement Support across Merseyside and Cheshire
For details and contact numbers of many organisations providing bereavement support for adults and children, please click here. 
Mental Health, Housing and Financial Guide for Veterans
We were grateful to receive this very comprehensive guide this week from a grand-daughter who had researched a wealth of information and support after a conversation with her Grandad.
To view the guide, please click here.
Tips from the YoungMinds organisation on supporting young people during the current situation
YoungMinds have issued an updated guide containing tips and information on supporting young people during the Coronavirus pandemic.
To access the information please click here.
This week is Mental Health Awareness Week and this year's theme is KINDNESS
In these uncertain and unsettling times kindness seems even more important and impactful than ever.  We need to distance ourselves but that doesn't mean we can't help each other and, during difficult times, we often see the most beautiful acts of kindness.  We will get through this better if we take care of ourselves and each other.  Kindness is a powerful tool – let's use it.
For lots of suggestions for being kind, and also staying busy while at home much more, please click here.
University of Southampton adapts personal Germ Defence Plan to aid the fight against Coronavirus
To view the plan, please click here.
Liverpool CAMHS – Sources of support for adult mental health concerns
CAMHS have issued a list of services which can support adults with mental health concerns.
To access the information, please click here.
KOOTH.com free counselling service
KOOTH.com free counselling service is now available in Liverpool for all young people aged 10 – 25
Kooth.com is a free online counselling and emotional well-being platform for young people in Liverpool aged 10-25.
The Kooth website allows young people to gain anonymous access to advice, support and guidance on any issue that is affecting their well-being.
From friendship or relationship issues, family disagreements or difficult home lives to concerns around anxiety, stress, depression, eating, self-harm and suicidal thoughts.  Qualified counsellors give young people the support they need when they need it.
KOOTH.com's live chat service is available Monday to Friday 12 noon to 10pm and Saturday and Sunday 6pm to 10pm.
The counselling service is accessible through mobile, tablet and desktop computer completely free of charge.
For more information, please click here.
A Teen Guide To Surviving Lockdown
This great guide contains tools, activities and practices to help you manage social distancing and stay positive during the Coronavirus lockdown and beyond.
To view, please click here.
A Parents' Guide To Coping With School Closures
As schools continue to remain closed for the vast majority of students, we'd like to share a link to a very comprehensive free online guide to help support parents/carers during this challenging time. It provides up-to-date, practical information on how parents/carers can look after their children's physical and mental health as well as how to help them study at home, and information on what to do if their children were due to take exams this summer.
The Parents' Guide to Coping With School Closures (April edition) can be requested on the following link:  http://www.theparentsguideto.co.uk/coronavirus
Domestic Abuse – information from Merseyside Police on help and support
The risk of increase in Domestic Abuse during the lockdown is a very real concern, and  people within some families could potentially be at an increased risk.  Here is some safety and welfare information which has been provided by Merseyside Police:
The 999 call system allows all 999 callers to access support if they are unable to speak during the call.  It is important that either a noise is made or that 55 is pressed.  For example, if you can only make noise, such as tapping the handset, coughing, crying or even talking to the offender, then these actions will alert the attention of the BT operator.
If you are supporting someone who is suffering with domestic abuse, speaking out is not always an option when someone is in real danger, so please encourage use of the 999 silent call.  Please reassure service users that the Police Force and specially trained officers are still there for people during the lockdown.  The below list details services which are also available:
For support:
In an emergency always, ring 999.   Using a silent 999 call followed by 55 (or tapping/coughing into the phone) will enable police to respond.
National Domestic Abuse 24 hour Support Helpline: 0808 2000 247
RESPECT National Helpline, perpetrators (9am to 5pm): 0808 802 4040
Support directories:
https://ehd.liverpool.gov.uk/kb5/liverpool/fsd/results.page?qt=domestic+abuse&term=&sorttype=relevance&sr=20
https://www.victimcaremerseyside.org/home/who-can-help.aspx
Or ring:
Liverpool Domestic Abuse Services   –  0151 263 7474
Merseyside Domestic Violence Service   –  0780 272 2703
South Liverpool Domestic Abuse Services   –  0151 494 2222
Ruby Project  –  0771 428 9180
Savera UK (honour based abuse & harmful practice specialist)  –  0800 107 0726
Worst Kept Secret Helpline (Merseyside)  –  0800 028 3398
Support for children:
Young Persons Advisory Service (YPAS)  –  0151 707 1025
NSPCC  –  0808 800 5000
Support for men:
Men's Advice Line (Freephone)  –  0808 801 0327
Are you worried about crime?  Would you like to report something completely anonymously?
Fearless is a site where you can access non-judgemental information and advice about crime and criminality.
What makes this site different is we also provide you with a safe place to give information to us about crime.
Fearless is a service that allows you to pass on information about crime 100% anonymously. This means you don't have to give any personal details.
For information please click here.
Parenting through Coronavirus (COVID-19)
Liverpool City Council's Early Help Team has produced a blog that includes a wide range of resources and information for parents and carers.
The blog covers the following areas:
Local Organisation Support – CAMHS
Top Tips
Parenting Guides
Pregnant or New Mums
Home Learning
Museums and Places to visit online
Make Time To Play
Ideas for Playing Together
Six ways to maintain a routine
Managing your own Wellbeing
Employment Opportunities
To access the blog, please click here.
NSPCC Coronavirus (COVID-19) advice and support for parents and carers
The NSPCC has created a number of resources to support parents and carers during this difficult time. Topics include:
Talking to a child worried about coronavirus
Parents working from home
Children staying home alone
Lockdown and separated parents
How to cope with tantrums and other difficult behaviour
The advice can be found on the NSPCC website, please click here.
COVID-19 Liverpool CAMHS Support – UPDATE
We have received updated information from Liverpool CAMHS including details of their 24-hour Crisis Line.
It can be accessed by clicking here.
Liverpool CAMHS Support – COVID-19
Liverpool CAMHS have issued a comprehensive information, advice and resource pack listing many sources of support. It can be accessed by clicking here.
Can you beat the list?
Some great suggestions for students that may help to fend off boredom during the current situation. Please click here.
Knowsley Virtual School online safety newsletters
Keeping children safe online can be challenging. Children and young people are likely to be using the internet more frequently over the coming weeks. In order to support parents, carers and teachers the Virtual School have produced the following newsletters:
Online Safety Newsletter March 2020
Online Safety Newsletter April 2020
Mental health helplines
Whether you're concerned about yourself or a loved one, these helplines and support groups can offer expert advice. Please click the link for more information:
https://www.nhs.uk/conditions/stress-anxiety-depression/mental-health-helplines/​
Advice for parents and carers if worried about a child's or young person's emotional well-being
Young Minds have a Parents' Helpline for anyone who may be worried about the emotional well-being of a child or young person.  Details on their free helpline for confidential and expert advice can be found by clicking the link provided:
https://youngminds.org.uk/find-help/for-parents/parents-helpline/
Advice on online safety
The NSPCC  have excellent advice for parents and carers about online safety.  For more information please click the link provided.
https://www.nspcc.org.uk/keeping-children-safe/online-safety/
Coronavirus – mental wellbeing while staying at home
NHS England has issued some additional support advice on staying at home and looking after our physical and emotional wellbeing during the current situation.  Find out more at:
https://www.nhs.uk/oneyou/every-mind-matters/coronavirus-covid-19-staying-at-home-tips/
Coronavirus – some advice from Young Minds
Some advice from Young Minds on supporting children and young people during the current situation.
For more information please see:
https://youngminds.org.uk/media/3695/how-to-support-your-child_corona.pdf
Coronavirus and your wellbeing
The mental health charity MIND has some helpful guidance and information relating to the current situation.
Find out more at:
https://www.mind.org.uk/information-support/coronavirus-and-your-wellbeing/
Looking after your mental health during the Coronavirus outbreak
Infectious disease outbreaks, like the current Coronavirus (Covid 19), can be scary and can affect our mental health. While it is important to stay informed, there are also many things we can do to support and manage our wellbeing during such times. The Mental Health Foundation have put together some tips which may help you, your family and your friends to look after your mental health at a time when there is much discussion of potential threats to our physical health. Find out more at:
https://www.mentalhealth.org.uk/publications/looking-after-your-mental-health-during-coronavirus-outbreak
Stemming teenage mental illness
Stem4 is a teenage mental health charity aimed at improving teenage mental health by stemming commonly occurring mental health issues at an early stage
Young people have just as much right to accessing facts about good mental health as they do good physical health, and yet there is a lack of accurate information. Embarrassment or social stigma surrounding mental health issues can so easily lead to confusion with what may be normal development, as opposed to the early development of a mental health issue.
By raising awareness, sharing information on how to recognise early warning signs and by providing effective strategies in how to deal with them, it can be possible to identify and stem these conditions early on. Find out more at  https://stem4.org.uk/
BBC 'OWN IT' APP
The BBC have created a new APP that helps everyone, and particularly young people, regulate what they post online. Once the APP is installed on someone's phone it recognises if they type something inappropriate whilst on a social media. The OWN IT then suggests they may want to reconsider sending the message. By doing this, the APP is helping young people to self-regulate their behaviours.
Alongside the OWN IT app the BBC has also created a number of short videos to help children and young people seek advice about staying safe online:
CAMHS Advice: Low Self Esteem
The Child and Adolescent Mental Health Services (CAMHS) have produced a series of helpful factsheets for parents. This one relates to low self-esteem   Download attachment:  CAMHS low self-esteem help sheet.pdf
CAMHS Advice: Anger
The Child and Adolescent Mental Health Services (CAMHS) have produced a series of helpful factsheets for parents. This one relates to 'Anger'.  Download attachment:  CAMHS anger help sheet.pdf
Talking to your children about scary world news
The Mental Health Foundation have released this useful guidance offering advice about how to talk to your children about scary world news.  Download attachment: talking_to_your_children_about_scary_world_news.pdf