11 Year 12 students from St Hilda's and Calderstones Schools in Liverpool represented the UK at 3rd Sitting of West European Model European Parliament that took place in the cities of Koblenz and Bonn in Germany between 31st March and 7th April. There they were joined by students from other countries in Western Europe – Germany, France, Luxembourg, Ireland, Belgium and the Netherlands – along with students from 3 guest nations in Sweden, Norway and Denmark. All visiting delegates stayed with host families in Koblenz.

While at WEMEP students were divided into 5 committees with each writing a resolution. This took place in Koblenz. The 5 resolutions were debated by all of the delegates in the Council Chamber of Bonn City Hall. All resolutions were successful and as a result were forwarded to the EU.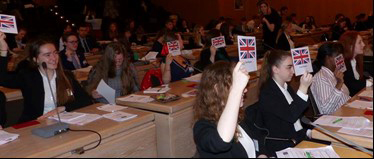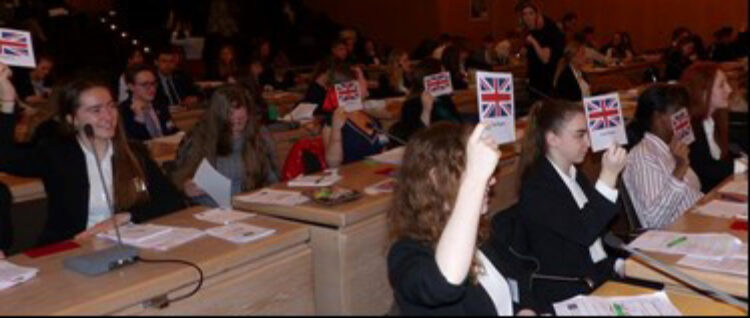 Apart from WEMEP sessions above all delegates were given guided tour of city of Koblenz and took part in a cultural evening at which those from Liverpool held a 'Speak Scouse' Quiz. The evening farewell party for WEMEP took place on cruise ship travelling up the River Rhine from Bonn to Koblenz.
Forthcoming opportunities:
WEMEP 4 will be taking place in Luxembourg in January 2020. Schools' Parliament has been invited to send along team of 10 delegates to represent UK.
Liverpool Schools' Parliament has been asked to investigate the possibility of hosting WEMEP 5 during early months of 2021.
Liverpool Schools' Parliament has been invited to provide 5 delegates to represent UK at International MEP in Malta in November 2019.
If you require more details on how you can be involved future IMEP/WEMEP events then please get in contact with Mrs Boyland. (Note that students participating in IMEP/WEMEP must be aged 16-19.)