PE news week beginning Monday 15th January 2018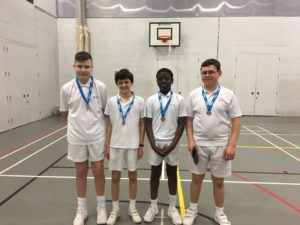 Results from last week:
Table tennis
Table tennis key stage 3 boys and key stage 3 girls
Teams:
A – Brad Stewart, James Weeks, Alex Rothwell, Daniel Owusu.
B – Ronan Brady, Leo James, Isaac Butland, Ethan Davies.
C – Jack Jevons, Sam Calderbank, Noah Edmonds, Ben Shiels.
D – Ellie McNee, Amber Lashley
The A team and B team finished 1st and 2nd and have qualified for the city finals.  Congratulations to all the students involved.
Football
Year 8 A boys v Broadgreen International School – lost 6 – 0.
Team: Finn Deveraux, Tom Glover, Noah Edmonds, Max Wormald, Cameron Scott-Allen, Jack Jevons, Ethan Davies, Finn Mullan, Michael Lavagne-Slater, Josh Rice, Harrison Hanley, Elliot Hunter, Brendon Ndlovu, Leo James.
Fixtures coming up:
Sportshall athletics year 7 and year 8 (boys and girls) @ St Hilda's – Tuesday 16th January.
Netball years 9a, 10a and 11a v Blue Coat School away – Wednesday 17th January.
Table tennis key stage 4 LSSP tournament – Thursday 18th January.
Football year 8 boys Merseyside Cup v SFX away – Thursday 18th January.
Netball all years v Belvedere – Tuesday 23rd January
Football 8A v Archbishop Beck – Tuesday 23rd January
Swimming gala all years (boys and girls) @ Calderstones School – Wednesday 24th January
Netball year 8A and 8B LSSP tournament @ St Hilda's – Thursday 25th January